MAGNETS & SYSTEMS UNIT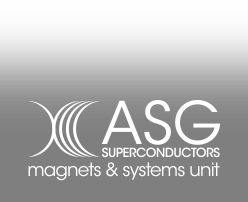 FROM RESEARCH TO
INDUSTRIAL APPLICATIONS
Research, nuclear fusion, particle physics, industrial applications for energy and med tech mri and systems: thanks to experience accumulated through participation in the main superconductivity technology research projects ASG's skills go from design to production to the complete test of systems and magnets. The ASG Superconductors magnets & systems unit has acquired industry-leading know-how in the design, development, production, installation and testing of superconductive and resistive magnets, cryogenic systems, resonance cavities, superconducting solenoids and coils, magnets for cyclotrons and components for made-to-measure applications.
The production of clean energy through fusion, which reconciles the energy needs of the modern world with safeguarding the environment, is a challenge that researchers and industries have been striving to meet. The quality of ASG's nuclear fusion offering is the result of unequalled technical and productive expertise; thanks also to its continuous dialog with the main institutes and research centers worldwide - including ENEA, UKAEA, CEA, IPP, ITER and Fusion4Energy, our magnets have been used in all the main fusion experiments undertaken so far in Europe during the last 60 years. ASG nowadays plays a leading role - as a supplier of magnets - in ITER (Europe) and JT-60SA (Japan), the two principal research projects which aim to study the feasibility of producing clean energy by replicating the process that takes place in the sun and stars.
For nuclear fusion ASG develops and produces:
superconducting and resistive toroidal coils

superconducting and resistive poloidal coils

coils for divertors

Central SC and resistive solenoid coils

ELM coils

Stellarator coils

Gyrotron system coils.
ASG also undertakes prototyping and research activities aimed at evaluating the feasibility and/or characterization of materials and production processes.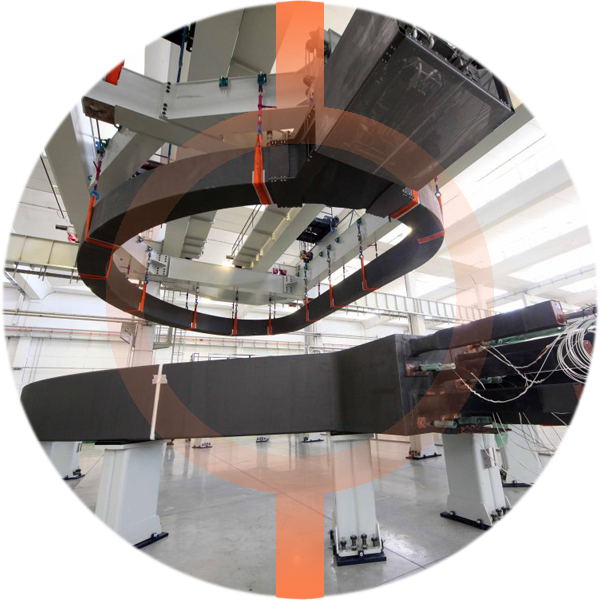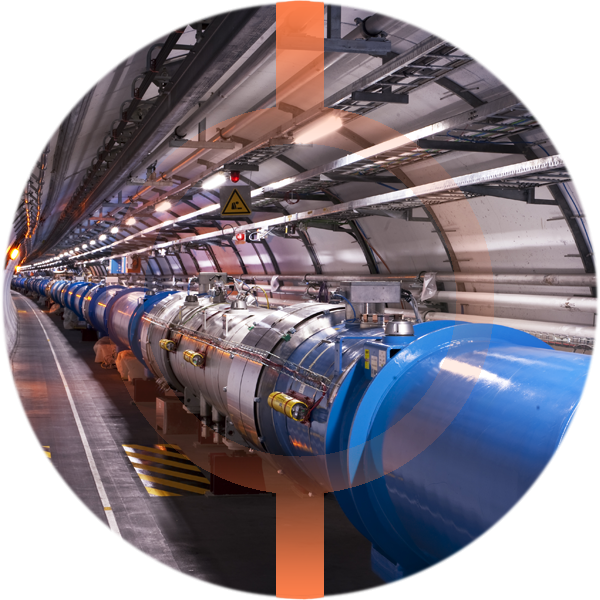 ASG is currently the largest European producer of magnets for particle accelerators and for applications in high-energy physics. From solenoids, dipoles and cyclotrons to the CMS and ATLAS detectors at Geneva's CERN as well as magnetic systems for the Katrin project: ASG is involved in all the main international projects.
Our magnets are testimony to the company's ability to meet precisely the needs of the research world. They have contributed to reaching important scientific goals, like - for example - the discovery of the Higgs Boson in 2012.
Thanks also to its continuous dialog with the main institutes and research centers worldwide - including INFN, GSI, FERMILAB, JINR, KIT, CEA and CERN - ASG is able to offer support in designing magnets starting from the requested field specifications or in the optimization and industrialization of existing designs. ASG can develop:
cos theta magnets

steering magnets, both superconducting and copper

superconducting and copper multipolar magnets for focusing particle beams

detector magnets

particle beams magnets with characteristics specific to the experiment being considered.
ASG also carries out installation, on-site commissioning of built magnets and systems and provides personnel training, offering its clients a complete service which ranges all the way from defining the specifications of the magnet to its operation and maintenance.
Superconducting technologies and magnets are increasingly finding application in medical diagnostics and therapies. Capitalizing on skills and experiences derived from research and industrial collaborations, ASG is constantly improving its competences and is able to design and build the following types of magnets for medical diagnostics:
Magnets for "whole body" MRI or dedicated systems

Closed bore and open sky magnets

"Zero-boil-off" or "cryogen-free" magnets

Magnets based on LTS and HTS technology

Actively and/or passively shielded magnets.
Furthermore, also for medical diagnostics, ASG designs and builds the following "whole body" superconducting magnet systems:
Cryogen free - gantry mounted magnets able to rotate around an isocenter in order to deliver IMPT/IMRT.
In the medical therapy sector ASG designs and builds superconducting or resistive magnets for hadron therapy accelerators:
High-medium-low energy beamline magnets for synchrotrons

Superconducting, cryogen-free or helium cooled magnets, using either LTS or HTS technology for cyclotrons and synchro-cyclotrons

Gantry mounted bending magnets for the delivery of particle beams.
We design and build magnets for MRI applications able to provide magnetic field intensities ranging from fractions of one tesla up to Ultra High Field (UHF).
Furthermore, ASG works in partnership with its clients in the definition and development of products, through assistance in designing, prototyping and optimizing the magnet system, shortening time to market and improving overall system competitivity.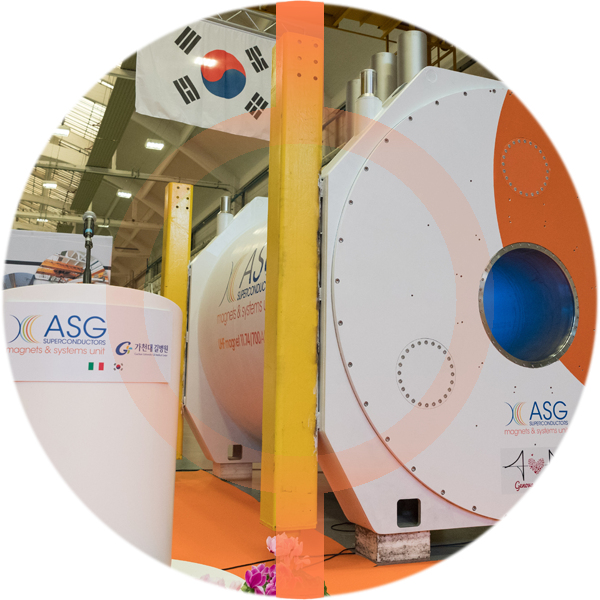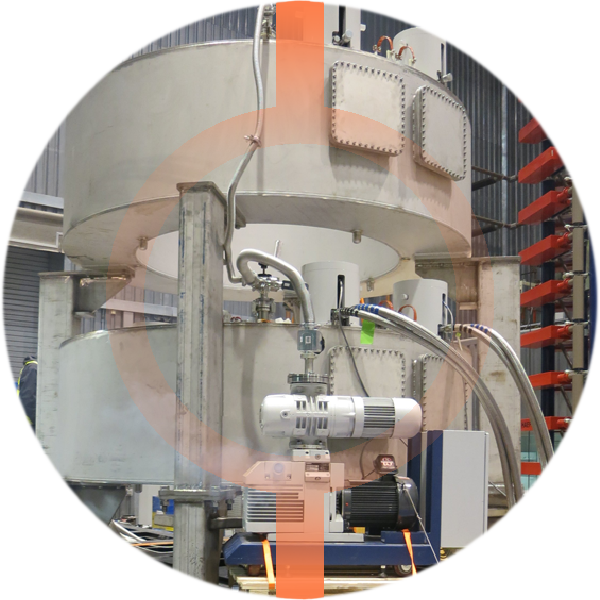 Efficiency and power quality will play a key role in the energy scenario in the near future and industry and utilities are increasingly interested in innovations that make use of superconducting technologies.
Capitalizing on our knowledge we can design and realize magnets and systems for energy storage, transport and grid stabilization.
ASG magnets & systems unit is able to design and produce cryogen-free or liquid helium-cooled magnetic systems for Fault Current Limiters (FCL and SFCL) for the protection and stabilization of electrical grids. Our systems can use both superconducting (LTC, MgB2, BSSCO) and standard technologies, depending on the specific needs of the grid or client.
We can also design coils and magnetic systems for Superconducting Magnetic Energy Storage (SMES) used to stabilize load fluctuations in electricity grids or to guarantee power quality in specific grid situations or in industrial applications.
Service and Support
ASG offers its Customers full servicing of their magnet systems, and can provide standard, preventative and emergency maintenance activities to their sites. Servicing activities are also offered to those Customers not operating magnets produced by ASG.4
Servicing teams are based in Europe (Italy), in the United Kingdom and in the United States covering our Partners' sites around the globe.
ASG also offers continuous technical support to its Customers: in case of need ASG engineers are able to provide assistance in addressing, directly or indirectly, all possible aspects of system operation. 
Repair
ASG, as well as developing, designing and manufacturing novel magnet systems also offers repair services, for magnet systems manufactured by third parties, to its Partners around the globe. These include on-site inspection of malfunctioning systems, damage assessment, repair on site or, where needed, in ASG's premises and both in-factory and on-site system testing. Where the damage to the original magnet or components thereof is not repairable, ASG may develop a whole new magnet unit to satisfy the original specification, incorporating any re-usable components.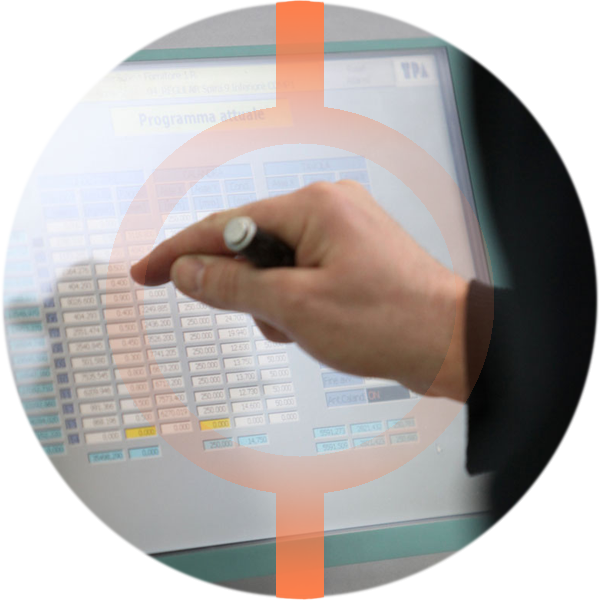 All our projects
filtered by: